Back To Menu
Low Carb
Romaine Lettuce | 1 Scoop of Meat | Onion | Cilantro | Cabbage | Cheese | Sour Cream | Avocado Sauce | Salsa
Meats (Select 1):
Carne Asada (Beef)
+$0.50
Al Pastor (Pork)
Pollo (Chicken)
Campechano (Beef + Chorizo)
Cube (Chicken + Chorizo)
Porco (Al Pastor + Chorizo)
Chorizo (Ground Pork)
Salsas:
Green
Red
Pineapple Habanero
Have you tried this item? Pop it!
Help other diners know what to expect by sharing your experience.
24 people have popped this item
Photo Gallery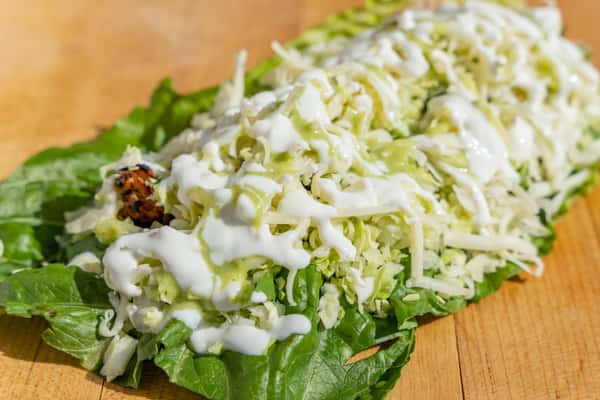 Back To Menu
Low Carb
Romaine Lettuce | 1 Scoop of Meat | Onion | Cilantro | Cabbage | Cheese | Sour Cream | Avocado Sauce | Salsa
Meats (Select 1):
Carne Asada (Beef)
+$0.50
Al Pastor (Pork)
Pollo (Chicken)
Campechano (Beef + Chorizo)
Cube (Chicken + Chorizo)
Porco (Al Pastor + Chorizo)
Chorizo (Ground Pork)
Salsas:
Green
Red
Pineapple Habanero
Back To Menu